Your Affordable And Appropriate Tourist Destination
Undoubtedly Marmaris is Turkish Riviera's jewel. This Mediterranean coastal tourist resort is situated in south west Turkey's Muğla Province. Tourism is the major source of income for Marmaris.
Major tourist attractions
Nimara Cave : Nimara Cave is one of the renowned tourist spots of Marmaris. It is a cave located on Marmaris' heaven island. You can find the space in this cave attain a height of about three to five meters and has, a 5 meter width. Researchers conducted on this historic place have discovered the presence of the cult of Mother Deity Leo, who is regarded as the mother of Goddess Artemis and God Apollo in the Physkos ancient city.
The Nimara Cave houses the trogloxene butterflies. You can find these butterflies similar to their cousins residing in the Butterfly valley of Fethiye. In 1999, the Nimara Cave has been announced as sheltered area.
Marmaris Icmeler : You can ride on the Turkish gullet, a conventional wooden sailing boat, to explore the adjoining coast. You can spend your holiday take a leisurely walk alongside the palm edged promenade alongside the tapered sandy beach that brushes all along the cove in the direction of Icmeler. The Icmelar is a very renowned resort among the family members and it looks greener and appears livelier with plenty of delicious food serving restaurants, hotels and bars.
You can find a variety of water sports activity which you can take part and enjoy with your friends and family members. Since the populaton of tourists coming to this ideal and inexpensive resort is constantly on the rise, it is highly recommended that you make an online reservation for your hotel rooms in advance, before landing at Marmaris so as to avoid last minute denial of rooms.
Day trip aboard Marmaris
The motorboat tours generally depart Marmaris at 10:30 and return about 18:00. The boats generally cruise on the following route: Günnücek Forest, Aktaş, Adaağzı, Yalancıboğaz, Bedir Island, Cennet Island, Akvaryum Cove, Fosforlu Sea Cave; the return leg starts at Kadırga Bay and visits Çiftlik, Kumlubük, and Turunç.
On the return leg sunset is enjoyed along the shore of İçmeler on the approach to the yacht harbour.
Alternative tours Marmaris
There are many water sports centres in Marmaris or at the coves, ready to assit you in surface or underwater sports adventures – including extreme sports!
Akvaryum (Aquarium) Bay, Baca (Chimney) Sea Cave and reef area are the fascinating diving spots for domestic and foreign visitors. Nature and adventure sports such as rafting on Dalaman stream and trekking tours are organised by travel agencies. Jeep safari is yet another alternative.
Do not return without Marmaris
Taking part in a Blue Voyage, Visiting beauty spots of Marmaris such as Turunç, Cennet Island, Bozburun, Turgut Waterfall, Yalancı boğaz and Günnücek, Visiting Museum of Marmaris, Tasting tarhana soup and Sura dondurması of Marmaris, Visiting the sites of settlements from antiquity..
Accommodation
Total bed capacity of Marmaris and its environs is over 80.000, and there are hotels and resorts fitting every holiday budget. Most of the hotels are concentrated in the centre, Armutalan and İçmeler, and there are several accommodation options in Turunç.
There are numerous small hotels and pensions in the coves that are respectful of the local natural beauty and habitat.
For those who seek peace and quiet, small hotels in Selimiye, Orhaniye, Bozburun, and Hisarönü are advisable. For those who look for camping and caravan sites, we advise you to contact Orman (Forestry Department's) Camps well in advance
Marmaris Transport
Road transport is mainly provied by intercity coaches to all parts of Turkey including the principal cities like Istanbul, Ankara and İzmir, departing from the bus terminal which is about two kilometres form the centre of Marmaris.
Ther are all season hourly bus services to the coves, and villages around Marmaris departing from the terminal. sea connection to Rhodes Island is provied twice a day in the summer season, departing at 09:00 and 16:00 hours.
In the winter season there are two reciprocal services every week, weather permitting. The closest airport to Marmaris is Dalaman Airport, serving the region is Milas / Bodrum Airport, which is about 140 kilometres from Marmaris.
Did you know that Marmaris ?
The renowned Günlük (sweetgum) trees, used in cosmetics and the pharmaceutical industries, are found just 2 kilometres out of the town centre at the Günnücek National Park picnic area.
These trees are only grown in North America, East Asia and the Marmaris region of Turkey.
Environs of Marmaris
Armutalan and İçmeler are both close to Marmaris and offer varied restaurants, accommodation, and entertainment facilities as well as very convenient transport services. Köyiçi offers facilities for those who like rustic charms and natural life. You can travel to İçmeler on a dolmuş (shared minius) with a ten minutes ride, and its beach shore is quite suitable for water sports, pleasure diving, water skiing and you will also find restaurants, cafes, and entertainment venues there. After İmeler comes Turunç Cove, which is one of the most beautiful small bays of the Aegean Sea, and its beach has been awarded the Blue Flag. Turunç offers accommodation ranging facilities from humble pension to four star resorts and it is an almost a compulsory stopover destination for Blue Voyage boats. Kumlubük is the next cove, and it is within walking distance of one of the largest cities of antiquity, Amos. The day trip boats cruising to Turunç and Kumlubük normally stop at the Fosforlu Sea Cave so that you enjoy swimming in its cyrstal clear waters. The "Safari" tours, which became fashionable in recent years, take you to Bayır Village which is believed to have been built upon the ruins of Syrna, city of antiquity, and you may see the temple dedicated to Asclepius, the God of Medicine and Healing.
Taking the road from Marmaris to Datça you enjoy a wide vista covering boath Gökova Bay and Hisarönü Bay. If you turn towards Bozburun, you first arrive at Hisarönü. Here the sea is quite shallow and beaches are terracotta coloured. It is the preferred destination for those suffering from heart problems or asthma because the humidity is quite low.
The next settlement is Orhaniye, 30 kilometres from Marmaris. I is one of the important centres on the southern shore of Hisarönü Bay, and ıt is a calm natural harbour for yachts to stay overnight. There is a picturesque sand you spit jotting into the bay – a natural wonder called Kızkumu (Maiden's sand) and is about 5 metres wide and 500 metres long. The small island in the middle of the bay contains the ruins of a fortress on its highest spot, which is believed to belong to antique city of Baybassos. Near the marina, at the entrance of the bay, lie the ruins of a monastery. The next village is Turgut, well known for its important carpet stores. You can also revitalize yourself under the cascade of waters that fall from a height of 10 metres, or you may enjoy a swim in the cool waters of the pool created by the waterfall.
10 kilometres from Orhaniye you reach a pristine fishing village called Selimiye. You can enjoy seafood at rustic restaurants mainly serving the yachts moored to the piers along the shore.
Bozburun is to the south of Selimiye, and it is renowned for its boatyards building gulets.
With its fish restaurants and small pensions set amongst scenic landscapes, this relatively unknown bay is fresquented by the yachting community. There are many small coves around Bozburun that may only be reached by boat. You must visit Söğüt (Saranda), 5 kilometres south of Bozburun, with a large vista of the rarea leading to the Island of Symi, to watch the sunset. To the west of Söğüt, lie the ruins of Thyssanos, a settlement of antiquity, and the shores of Saranda Bay, on the road towards Taşlıca, offer magnificent vistas. Taşlıca is an unspoilt village and you may see the ruins of Carian city Phoinix on the road to Serçe Harbour. Bozukkale, which is on the southern shores of Bozburun Peninsula, has no road connection so it has a pristine natural beauty. You have to leave your vehicle at Taşlıca and walk to Bozukkale in order to visit the ruins of Loryma settlement of antiquity. The coves of Hisarönü, Orhaniye, Selimiye, Bozburun, Saranda, Bozukbükü and Serçe Harbour are the primary overnight stay destinations for the Blue voyage boats travelling on the Bodrum-Marmaris route crossing Hisarönü Bay. There are daily boat trips from Marmaris to the famous Greek Island of Rhodes.
11 kilometres outside Marmaris, travelling towards Muğla, you come to the junction for Karacasöğüt. Following that road takes you to Karaca and Söğüt harbours on the coast of Gökova Bay. The Karacain Cave which is said to go about 30 kilometres underground, and Euthenna and Amnistos settlements of antiquity are the prime locations that worth a visit. On the shores of Gökova Bay, the coves of Karacasöğüt, İngiliz Limanı (English Harbour), Longoz (Kargılı), Yedi Adalar (Seven Islands) and Bördübet are normal stops on the Blue Voyage. As Bördübet was declared as Protected Environmental Site, and all types of construction are banned, it remained a spot of pristine natural beauty. At the coves you will always find rustic restaurants offering the fish of the day as well as starters prepared with local herbs and greens.
Marmaris is very beautiful, and there are many beauty spots, coves, beaches and Islands to explore along its coast. The Gökova Bay is one of the mostbeautiful places in Turkey, and the pleasures of its coast include the antique settlement of Cedrai, Sedir Adası (Cedar Island) with its world famous Cleopatra Beach, Boncuk Cove. Marmaris is also a centre for pleasure diving and with 52 diving spots it is one of the pime locations of Turkey.
Places visit in Marmaris
The first place to visit in Marmaris is the Fortress which is thought to have been built by the lonians. At present it serves as the Archaeology Museum of Marmaris. The Fortress took its present form after on Ottoman intervention in 1522. The Fortress was opened for inhabitation during the Republican Period, and it was restored between 1980 and 1990. The Museum exhibits the artefacts found at the excavations conducted in the region, and findings of underwater archaeology surveys conducted at Knidos, Burgaz and Hisarönü, such as glass, ingots of varios metals, ceramics and amphorae. The Museum also displays ethnographical items. The Taşhan (Stone Caravanserai) (1552), Kemerli Köprü (Arched Bridge) (1552), İbrahim Aga Mosque (1789), Sarıana Tomb, Hafize Sultan Caravanserai (1545), and the historical Bedesten (Covered bazaar) which is still used as a shopping centre, are the important historical buildings in the old city.
There are numerous restaurants and entertainment venues in Marmaris and its environs that cater to all tastes and styles. If you wish you can enjoy a midnight cruise to watch moonlight playing with the wawes, or enjoy the sundown in one of the restaurants lined on the pedestrian road leading to İçmeler.
Netsel Marina is the main facility in central Marmaris, which is one of the largest marinas in Turkey and fully equipped to serve all yachting need. Blue Voyage boats moor stem-to-stern along the quay between the Marina and market. From the harbour, if you follow the Venedik Stream you reach the Street of Bars. At the Street of Bars you can party till sunrise- you will definitely find a bar catering to your prefences. Along the quay there are bars and restaurants serving seafood and local disches.
At the pier along the Market area you may find boats departing for day trips to destinations such as Cennet Island, Fosforlu (Phosphorescence) Cave, Bedir Island, Turunç, Kumlubük, iftlik Island, Mavi (Blue) Cave. Also there are Blue Voyage boats that would take you to the Gökova Bay to destinations such as Bördübet, Okluk, İngiliz Limanı (English Harbour), Longoz, Yedi Adalar (Seven Island) as well as coves along the Hisarönü Bay such as Hisarönü Harbour, Orhaniye, Selimiye, Bozburun, Söğüt Harbour and Bozukbükü at the tip of the peninsula.
Folk dances and ballads
The people of the Marmaris region have their own zeybek and dance music which they perform at festivites such holidays, weddings and other ceremonies.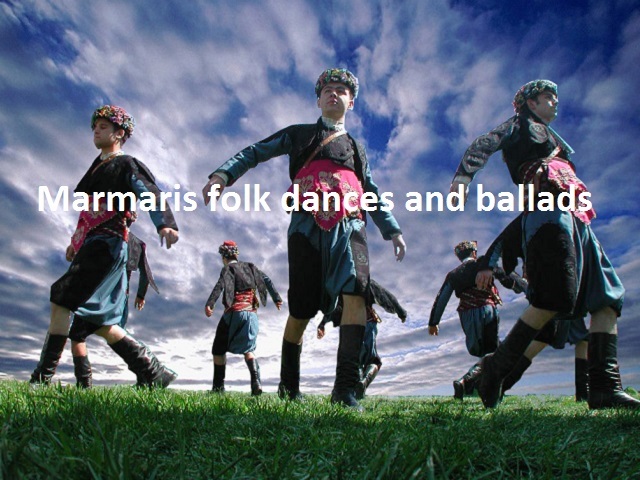 Marmaris folk dances and Marmaris ballads are similar to those of Muğla. Most of the dances are zeybek and the ballads are about zeybek or efe life.
The dances are preformed by individuals or pairs in a circle formed by a group of four or eight.
Handicrafts
İğne oyası (needle lace) is a traditional handicraft in Marmaris. There are quite a number of motifs and colour which have peculiar local names such as : mecnun yuvası (nest of the love-crazed), kiremit sattıran (makes you sell your roof tiles), karanfil (cloves), portakal çiçeği (orange blossom), güldüren (hilarity), etc.
In the past the needle lace used to be woven with silk, but nowadays they are produced with cotton and synthetic yarn.
The lace maker is believed to reflect her feelings and thoughts such as love, pain, regret, exasperation, disappointment, or happiness in her work.
Marmaris Gastronomy
Apart from the well known items of Turkish cuisine and Marmaris gastronomy, the local speciality dish sura doldurması is very famous. Sura is mainly prepared on important occasions such as Kurban Bayramı (Festival of Sacrifice) or Hıdrelez (Spring Festival), and it is an oven roasted half rib cage of lamb stuffed with a rice pilaf prepared with raisins and kernels of pine nut.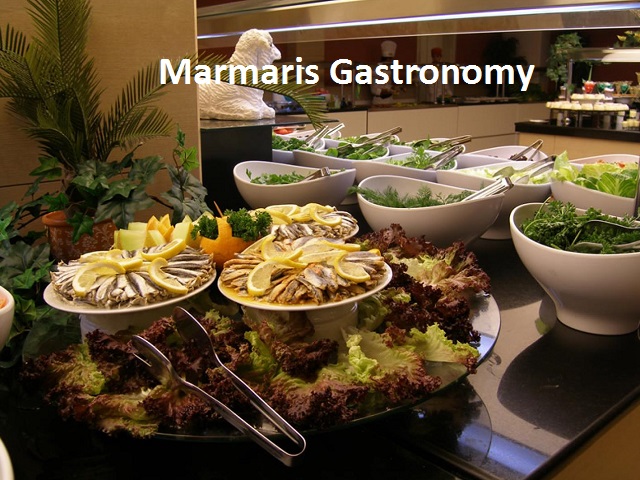 The other local dishes are pirinçli tavuk (fish sautéed with rice and vegetables), keşkek (paste of boiled wheat mixed with well cooked and boned lamb or chicken), çıntar kavurması (sauté mushrooms), köreme böreği (pastry filled with wild leaks), kıstırma (baked aubergines with a lamb and rice filling) and çıntar köftesi (meatballs with mushroom). The local herbs such as turp otu (wild radish leaves), ebegümeci (mallow), semizotu (purslane) and local deserts such as katmer (crisp flaky pastry), bestel (watermelon jam), and ballı kabak (roasted pumpkin chunks in a honey syrup) are much loved.
History
Marmaris History; In antiquity Marmaris was known as Physkos an it was one of the important port cities of the Carians. During the Hellenistic Period it came under the domintaion of the Seleucid Kingdom, and later became part of the Roman and Byzantine civilisations. After the 13th century it came under the rule of Menteşeoğulları Principality, and in 1522 the city was conquered by Sultan Süleyman the Magnificent, and became part of the Ottaman domain. Between 1919 and 1921 the region was occupied by the Italians.


From the early years of the Republic until 19080 it remained a little fishing and sponge diving town. Some of the sites of ancient cities in the environs of Marmaris are follows; Amos (Hisarönü – Turunç), Bybassos (Hisarönü) , Kastabos (Hisarönü), Syma (Bayır Village), Larymna (Bozburun), Thyssanos (Söğüt), Phoinix (Taşlıca), Loryma (Bozukkale), Kasara (Serçe Harbour), Cedrai (Sedir Island), Euthena and Amnistos (Karacasöğüt).
Climate of Marmaris
Its balmy Mediterranean climate makes the sea suitable for bathing even during the winter.


The high hills covered with pine forests surrounding the bay, the rare Sweetgum (Liquidambar orientalis) trees and broad leaved oriental plane trees (platanus orientalis) provide the green backdrop of Marmaris.
Marmaris nightlife and entertainment
When you return to your hotel the tiredness that come upon you after the vigorous exertions of touring on land or boat can best be overcome by joining the crown in the Marmaris Street of Bars, which is the heart of local nightlife. The entertainment reaches its peak after midnight and last until sunrise with live shows by domestic and foreign performers. Uzunyalı Street, on the coastal road from Marmaris centre towards İçmeler, is the alternative entertainment centre. Numerous small and large cafes, bars, restaurants, and discos offer various types of music, animation and shows.
You may also enjoy Moonlight Tours with the boats departing form yacht harbour towards midnight. If you wish you may enjoy a cool summer night's stroll along the longest Street of Marmaris, Uzunyalı Street. The plesant atmosphere enriched with restaurants, stands selling gift items, discos, cafes and bars lets you enjoy a remarkable summer night.
The old town, with its narrow, awning shaded streets lined with shops and stands, has a colourful texture. The various types of needle lace, the much loved traditional local handicraft, are one sale at these shops and markets. Around the harbour and inside the fortress are many shops selling copper and wood decorative items and briç-a-brac, inexpensive jewellery, and locally produced clothing items. Markets operate on Thursdays and Sundays in the centre Solaris Shopping Centre, Tesco-Kipa and Netsel are the modern shopping centres of Marmaris.